WATCH PROMO
with Michael Douglas, Steve Hackett, John Miles & Will Lee
click to view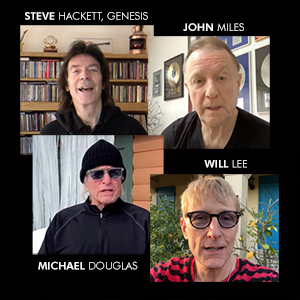 PRESS
READ ON THE ROYAL GAZETTE
READ ON BERNEWS
READ ON GloTIME tv
LISTEN TO INTERVIEW ON CAPITAL MEDIA
LISTEN TO THE BOB RIVER SHOW (1:24:05)
LISTEN TO CBC BARBADOS TV(1:10:28)
HOPE is a song for the times - written by Barbadian, James "Jimmy" Duncan & Bermudian Tony Brannon. The Covid pandemic has meant everyone from Paul McCartney, Bruce & The E Street Band to the Rolling Stones, Beyonce, Adele, Alicia, pub entertainers and millions more have nowhere to play. Lockdowns and Quarantines shut down West End Theatres, Broadway, Las Vegas, Stadium Concerts, Clubs & Bars. It's been a global disaster for the performing arts. Lyrics in the form of a poem were sent by Tony to Jimmy inspiring him to write the music plus additional lyrics.
THE LYRICS
The verses talk about the reality of not seeing any live music or fans going to a football game, be it soccer in Liverpool or any global sporting event. 2020 and 2021 feels like a long dark night - lonely prisoners in our homes. The Covid pandemic has resulted in millions of lives lost around the world. Businesses and livelihoods have been shattered. BUT - there is HOPE!
THE FIRST VERSE
I WANNA FEEL HOPE, BUT I'M LIVING A LONG DARK NIGHT I WANNA SEE BRUCE AND THE E STREET BAND, SINGING BLINDED BY THE LIGHT I WANNA BE IN THE STANDS CHANTING, "YOU'LL NEVER WALK ALONE" I'M TIRED OF ALL THIS MADNESS, A LONELY PRISONER IN MY HOME
THE SECOND VERSE
When was the last time anyone jumped on a stage to sing? For many, the money is running low. Desperate times with no income and many struggling to get by. Artists long to play and perform for an audience - we all miss this.
I AIN'T WORKED IN SO LONG, AND THE MONEYS RUNNING LOW I GOT SUICIDE IN MY BACK POCKET, LORD KNOWS THAT AIN'T THE WAY TO GO I WANNA BE IN THE LINE, CRYING "YOU KNOW I'M READY TO BURN" TO DANCE AND SING AND LAUGH AGAIN, I KNOW THE TIDE WILL TURN
THE CHORUS
Hope, Faith & Love - These are the things we hold on to - something to see us through.
I'VE GOTTA HAVE HOPE, SOMETHING TO SEE ME THROUGH I GOTTA HAVE FAITH, I GOTTA BELIEVE IN ME AND YOU I GOTTA SHAKE THIS FEELING, I'M AT THE END OF MY ROPE I'VE GOTTA HAVE LOVE, I'VE GOTTA HAVE FAITH AND I GOTTA HAVE HOPE
THE BRIDGE
BREATHE IN AND OUT, HOLD ON BE STRONG JUST CLING TO MY FAITH, I GOTTA MAKE IT THROUGH THIS - MAKE IT THROUGH THIS
H O P E - is what keeps us alive when things don't always go our way. Breathe in and out, hold on be strong, we are gonna make it through this.