The Tribute Sculpture at Masterworks Museum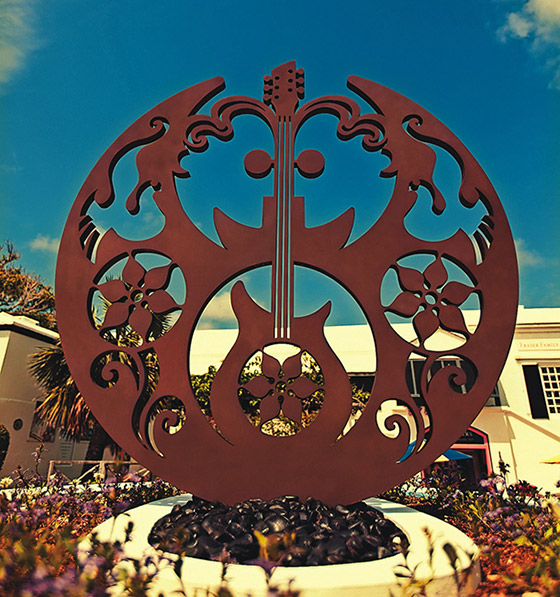 Make sure you visit THE DOUBLE FANTASY SCULPTURE in the
Bermuda Botanical Gardens, South Shore, Paget, Bermuda.
John Lennon wrote his last songs in Bermuda in 1980. He named his last album DOUBLE FANTASY after a flower in the gardens.
Take a walk through the gardens and retrace the steps of the place that inspired Lennon to name his last record after the DOUBLE FANTASY freesia flower he found during his many walks in the gardens in June of 1980.
Bermuda Sculptor Graham Foster created the sculpture, commissioned by the Masterworks Museum of Bermuda Art. This iconic masterpiece symbolizes John Lennon with his iconic Rickenbacker Guitar, a double image of his profile with his "Lennon Glasses", the Double Fantasy freesia flower and peace doves.
The Sculpture is free for all to see and is located near the entrance to the museum.
"There's No Place Like Nowhere" (John Lennon, Bermuda, 1980)
John Lennon sailed to Bermuda
Lennon told Playboy Magazine: "So I was driving the boat for six hours, keeping it on course. I was buried under water. I was smashed in the face by waves for six solid hours. It won't go away. You can't change your mind. It's like being on stage; once you're on there's no gettin' off. A couple of the waves had me on my knees. I was just hanging on with my hands on the wheel - it is very powerful weather - and I was having the time of my life. I was screaming sea chanteys and shoutin' at the gods! I felt like the Viking, you know, Jason and the Golden Fleece. I arrived in Bermuda. Once I got there, I was so centered after the experience at sea that I was tuned in, or whatever, to the cosmos. And all these songs came! The time there was amazing. Fred [Lennon's assistant] and Sean and I were there on the beach taping songs with this big machine and me just playing guitar and singing. We were just in the sun and these songs were coming out."
The Book
THE LENNON BERMUDA book by Scott Neil is the definitive story on John Lennon's trip and stay in Bermuda.
The LENNON BERMUDA CD and Book are available at our ONLINE STORE.