Special Events / Concerts / Tickets
Special Events and Concerts in Bermuda for 2023!
Events are listed in order of the date !
*FOR EVENTS TICKETS PLEASE VISIT PTIX*
Open Mic Night
Astwood Arms
Last Saturday of every month
7:30 - 11
presented by The Bermuda Folk Club
Music by you and local artists
@ Astwood Arms
RESERVE YOUR TABLE IN ADVANCE!
441-292-5818
$5 Donation
Open Mic jam session
Blue Waters Anglers Club
Last Sunday of every month
7 - Midnight
presented by Chewstick
Music by you and local artists
@ Blue Waters Anglers Club
FREE for performers and free before 8 PM!

$10 Donation
GET TICKETS HERE
Jazz Nights​
Maree Lounge, The Loren
Thursday nights until October 2023 ~ from 8 until 11
Check dates here
Jazz Night with Tino Martinez - Quintet
@ Maree Lounge & Bar
Food & Beverage Specials Available
GET TICKETS HERE
FULL MOON BBQ
The Loren
May 4, June 4, August 1, September 1 & 29, 2023
Join us for our Full Moon BBQ with a delicious culinary menu,
and dance the night away under the moon.
$85.00 per person plus 17% gratuities
Curated beverage selections.
Live Band, Working Title, from 8pm–11pm
Reservations are available from 5pm–10pm
Call 441-293-1666 or email dine@thelorenhotel.com
Harbour Nights
Front Street, Hamilton
May 24 – September 6, 2023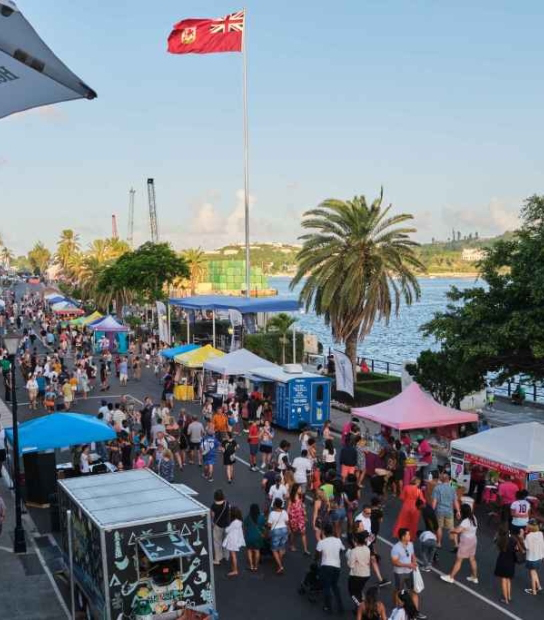 Every Wednesday from 7-10 pm on Front Street
GRAND FINALE ON SEPTEMBER 6th !!!
For just about 30 years Harbour Nights has invited locals and visitors alike
to mingle along Front Street from 7pm until the stars are twinkling into the night.
Here you discover the islands most talented artisans, indulge in local cuisine and
enjoy the best in our entertainment.
It's always a night to remember for all ages.
There's nothing quite like summer nights in the City of Hamilton.
Every Wednesday evening from May 24th to September 6th,
the restaurant-lined zone of Front Street is closed to traffic and
transformed into a pedestrian block party.
Locals and visitors mingle while exploring a variety of street vendors,
handmade artisan crafts, food trucks, and live music.
At the end of the evening, Gombey drums close out the night.
It's a great intro to Bermudian art, music, and culture, not to mention a fun time!
No wonder, the festival has received a TripAdvisor Certificate of Excellence.
FREE EVENT
Read more on Go To Bermuda
Berkeley Institute - Class of '73 50th Reunion
Grotto Bay Beach Resort & Spa
Thursday, August 31, 2023 - Saturday, September 2, 2023
The B.I. graduating class of 1973 celebrates their 50th.
Reunion with a weekend of events which consists of a
cocktail meet and greet, a games night,
a Gala Dinner and a family fun day.
Entertainment provided by Hindsight, Shine Hayward and Nadanja.
GET TICKETS HERE️
JAB J'Ouvert
Southlands, Warwick Park
Sunday September 3, 2023 - 4AM until 8AM
Dj Fury - Dj Casualty - Dj Mista Genius - Dj Mystro
100% Soca Experience
Sponsor: Cockspur | Stoli | WKD | Charming
GET TICKETS HERE
White Yardie
Ruth Seaton James Auditorium
Friday September 8, 2023 - 8 until 11:30PM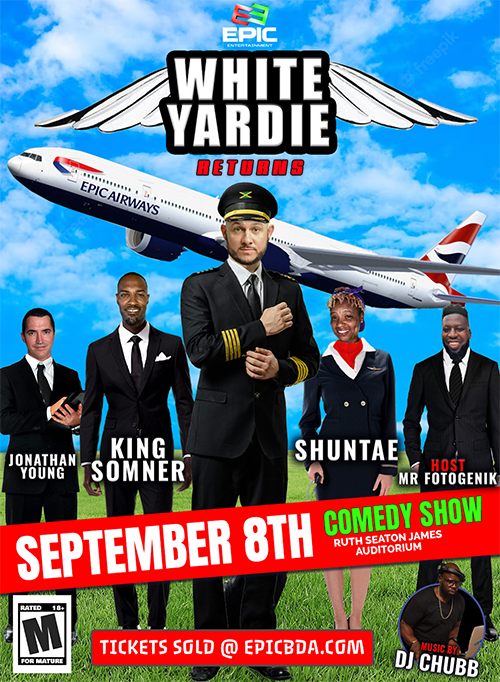 Watch promo HERE
Tickets $75
GET TICKETS HERE
Open Mic
Mariners Club
Sat September 16, 2023 - 7:30 until 11PM
Presented by Bermuda Folk Club
Audience & Performers welcome!!
Vocals, Guitar, Ukulele, Cahone, Djembe,
Sax, Violin, Harmonica, Tambourine, Maracas
$10 Admission
Bermuda Swizzle Festival
Barr's Bay Park, City of Hamilton
Sunday September 24, 2023 - 1 until 6PM
Join in some fun and
taste the best with swizzle masters
at the Bermuda Swizzle Festival!
In addition to swizzle tasting this event also has
local food vendors and local entertainment
to make it an authentic and fun day out!
Oktoberfest
Victualing Yard, Dockyard
September 29 & 30, 2023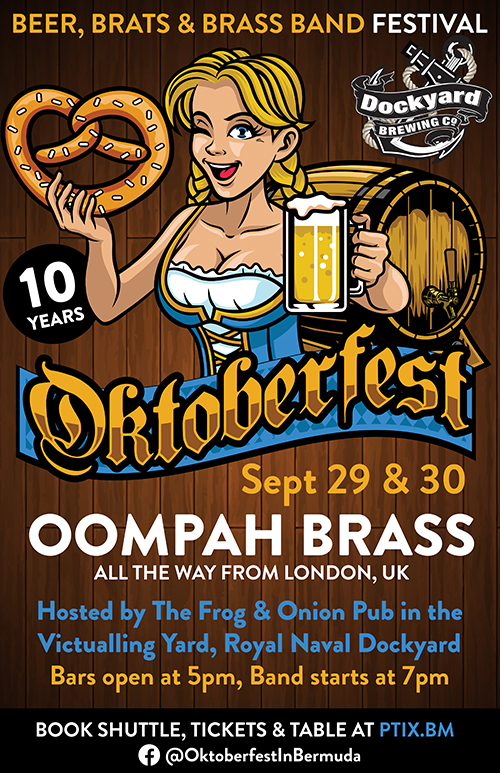 Hosted by Frog & Onion Pub
Special Guests:
OOMPAH BRASS
(All the way from London)
Bar opens 5pm, band starts 7pm
» WATCH PROMO HERE «
GET TICKETS HERE️
Latin Pool Party
Coco Reef
Saturday September 30, 2 - 6PM
Music by Clave
$10 Cocktail Special
Reservations 236 - 5416
Tim Rogers Tours
Various locations
All year round
Sign up for an informative and enthused tour on foot
by one of Bermuda's leading tour guides:
Tim Rogers of Bermuda Lectures & Tours (BLT).
Established in 1998, BLT offers small group and private tours island-wide, East to West,
inviting you to peel back the dynamic layers of Bermuda's beauty, culture and history.
Get to learn more about the how's and why's of Bermuda,
from architecture to zoology, and everything in between!
A fond traveler himself, Tim offers authentic and enthusiastic experiences that are sure
to be educational, thought provoking and comical.
To book, or to find out more information, contact Tim directly:
Telephone: 441-238-0344
E-mail: timrogers852@gmail.com